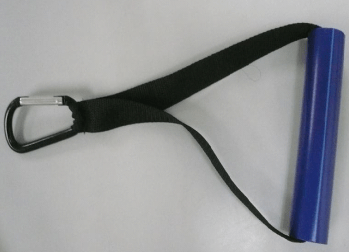 Carabiner band handles
Designed to be used with orange, red, black and purple 41″ power band loops. Suitable for horizontal based band exercises.
Band utility straps
2 inch and 10 inch plastic cylinders and a 1 inch heavy duty nylon strapping band attachment. It is designed to place into a door jamb or to lock the utility strap down when looped around a secure structure, like basketball pole, tennis pole, picnic tables, garage pipe etc.
Door anchor/stopper
Used to secure bands or tubing for upper and lower body workouts. Can be secured at any point along the frame of a standard door, offering versatile anchoring options.